General information
When we have saved changes - we need to check how our design looks like in frontend. So in order to preview our design we click eye button in the panel and the selected template applicant page will be opened in the new tab.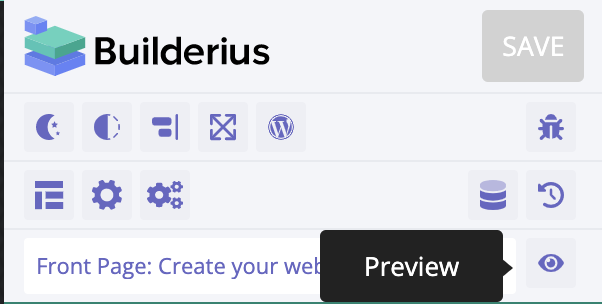 Preview Modes
In the navigation bar we can see there are two preview modes in Builderius - DEV and PROD.

DEV (DEVELOPMENT) - this mode is for previewing the saved but not yet published changes during the development (selected by default).
PROD (PRODUCTION) - this mode is for previewing the published (via release ) work or, if nothing is published yet, the template of the active WordPress theme.
Preview as another user PRO FEATURE
What if we need to create one template for logged-in users and another template for not logged-in, or inside one template we need to render some modules just for logged-in users or just for users with specific roles? So how to preview this template correctly? Builderius (pro version only) has possibility to preview template as another user.