Templates management
Add new template.
A template name (click on the text to start editing, click outside to end editing the text).
The link to edit template page (shown on hover over the row item; allows entering the builder mode).
Open meta info about the template.
Sort order.
Apply rules: the blue button below opens a query builder for setting conditional rules for each template, determining which pages will use this template.
Save changes. The Grey color of the button indicates no changes; the green color indicates that some changes are made and can be saved.
Cancel changes. Similar to the Save button, its color indicates whether there are unsaved changes or not. This button cancels all the changes made for the specific template.
Delete the template.
Setting up a template
Adding a new template
In order to create a new template we go to Templates page (1), then click on "Add new" button (2).
This will open a modal window with a two step form wizard:
Add a name
Choose a desired type of the new template
Template type defines a category from WP template hierarchy (more on the topic). However, Builderius does not have such detailed categories. In practice, only few are enough:
Singular (FREE version) - for single post, pages and CPT (support for custom post types is available in the PRO version only)
Collection (PRO version) - for the standard and custom archive pages
Other pages (PRO version) - e.g. 404 page etc
The next step is dedicated to Apply rules - the conditions for displaying the template for specific pages:
All apply rules are organized by groups. The first group - template hierarchy is a required to be filled in. Other group are optional. Many groups have starters for a fast and easy selection of apply rules.
Template hierarchy group
Starters dropdown
After the "Apply rules" are defined, click on "CREATE TEMPLATE" button.
Defining apply rules
For a template to be visible on the site it has to be applied for certain pages. There is no division to template types like "header/footer" or "main content". Each template is a full page.

Remove all conditions (rules) in a specific category.
Change condition (rule) operator. It can be done separately on different levels.
Delete a part or the full condition (rule).
Duplicate a part of the full condition (rule).
Add a new condition (rule).
Add a new group of conditions (rules).
Below are examples of apply rules defined for different pages.
Apply to page by ID

Apply to two pages by ID

Apply to two pages by ID - an alternative version

Apply to two pages by ID and to posts in specific category or with a specific tag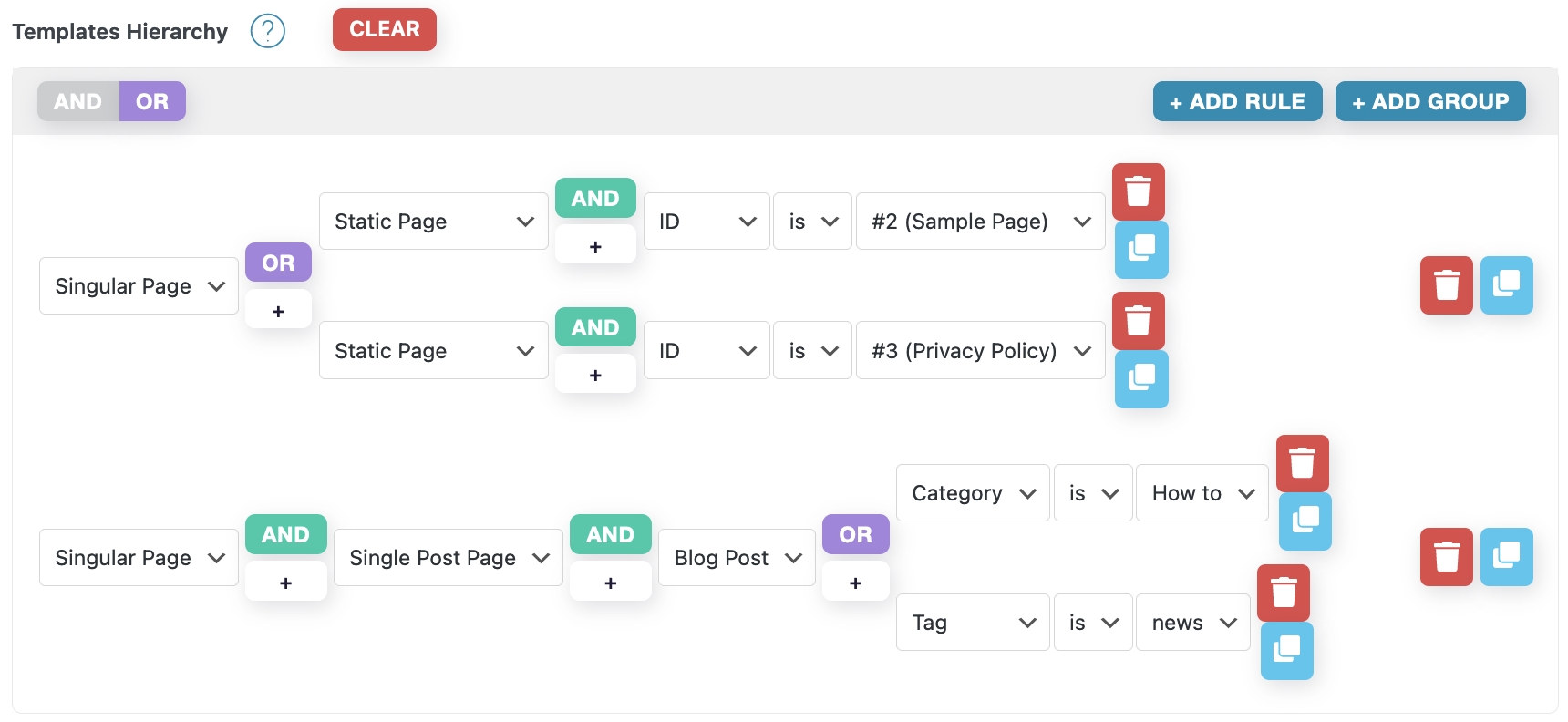 After the Apply Rules are being set, we have to click on the Save changes button to save changes. In order to discard the changes made, we click on the Cancel & close button.
Setting a specific sort order (optional)
Since several templates might be applied to the same page (or pages), we use sort order to specify the priority of such templates; the lower value of the sort order means higher priority.
Saving or discarding changes
It is important to save changes made. Whenever we change template name, sort order and apply rules - the changes must be saved in order to be applied.
We can also cancel (discard) changes or delete the template.